Ominous skies in California's parched San Bernardino Mountains looked more like the Apocalypse than a typical sunny August afternoon.  Smoke, soot, and ash from the vicious Pilot and Blue Cut fires shrouded the valley, causing residents to flee their homes and schools and businesses to close.
Seventeen hundred miles away on the other side of the country, a different kind of disaster was unfolding. Record-breaking rainfall and flooding in Louisiana has killed at least 11 people, displaced nearly 70,000 people, and damaged 60,000 homes.  Red Cross has called the event the worst natural disaster in the U.S. since Hurricane Sandy.
Unfortunately, floods and fires that were once considered 500 and 1,000 year events are occurring on a 5-10 year basis, and experts project that the frequency and intensity will only continue to increase.
In the West, historic drought has parched the landscape, leading to unprecedented conditions fostering wildfires.  These wildfires have caused a spike in respiratory ailments, property destruction, and ecosystem decimation.   A recent study by Climactic Change indicates that over 80 million people in the western U.S. will incur physical and financial damage from raging wildfires and in the years ahead.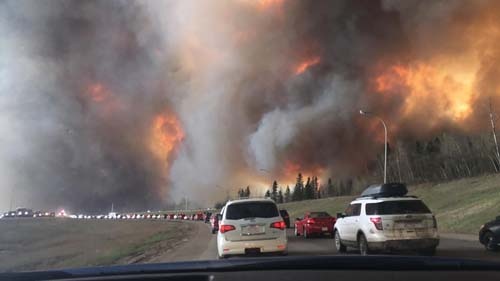 The recent wildfires in Canada destroyed more than 2,400 buildings around Fort McMurray. Image credit: Wikimedia
The flooding is now being called a classic signal of climate change.  As temperatures rise, tropical storms feed on warmer ocean water.  Since hotter air is able to hold more precipitation, the average atmospheric moisture increases, causing torrential rains in the east and corresponding flooding. Back in the southeast, the Louisiana flood, categorized by the National Oceanic and Atmospheric Association (NOAA) as a 500-year event, is one of 8 such events to take place in the region since 2015.  To put it in perspective, a 100-year storm in that region typically consists of 14 inches of rain.  A 1,000-year storm drops 21 inches.  In the recent flooding event, some locations reported over 30 inches of rain.
According to NOAA, extreme precipitation has increased in the Southeastern U.S. by 27% from 1958 to 2012, which is line with climatologists' expectations for a warming planet.  Climate researcher Katharine Hayhoe says, "Louisiana is always at risk of floods, naturally, but climate change is exacerbating that risk, weighting the dice against us."
There should no longer be any doubt that climate change is intensifying extreme weather events, wildfires, and other natural disasters.  To ignore the connection is both irresponsible and ignorant.
Which leads to the logical conclusion that resiliency should become an increasingly important part of our national dialogue.  It makes sense that if you're building a structure with a potential 100+ year lifespan, it's all but assured that said structure will be impacted by destructive natural events.
Which begs several vital questions—how do we design, build, and plan with resiliency in mind?  How can we create safe homes, communities, and cities that protect people from the effects caused by our changing climate?  Will we have the political will and the financial foresight to look beyond the lowest upfront cost metric, finally throwing off the yoke of what is hailed as affordability for a longer term vision of sustainability?  And who will have the courage to lead the charge?
New Jersey is setting an example, taking a proactive stance on reclaiming property located in flood-prone areas.  As Bloomberg writer Christopher Flavelle states in a recent article, A New Strategy for Climate Change? Retreat:
New Jersey has sought to purchase large chunks of property, raze the homes that stand on them, and turn the land into open fields and marshlands that can absorb floods and rainwater and protect homes farther inland. As last week's flooding in Louisiana demonstrates, it's a model other states will want to pay attention to. 
More than three years and $96 million in federal and state money later, that program, called Superstorm Sandy Blue Acres, has demonstrated the promise — and limits — of voluntary buyouts for coping with climate change. As of mid-May, New Jersey had bought 471 homes in 11 towns and cities. Assuming none of those people then bought homes in another flood zone (the state says it doesn't track where sellers move to), that's 471 families who won't need help after the next storm. 
Despite good intentions, however, New Jersey isn't experiencing smooth sailing with its Blue Acres program or other initiatives.  Some residents are refusing to sell their homes and leave the places where they have deep roots.  Others simply can't afford to participate in the program, since they owe more money on their mortgages than the State will give them.  But with time and repeated catastrophe, that may change.
If people choose not to leave their homes that are located in disaster zones, how strict should codes and regulations be to require them to make their homes more resilient, giving them a chance to withstand the next disaster?  And how many times does a home need to be impacted before a local government enforces the rule of eminent domain to reclaim that home and relocate the homeowners?
As one travels further down the rabbit trail, the issue becomes increasingly more complex and unpleasant.  With that said, it's likely that we won't see Washington offering much leadership or support—as Flavelle puts it, "A Congress that can't agree that climate change is real is unlikely to provide tens of billions of dollars for dealing with its consequences."
Do you care about resiliency?  Write to me at sara.gutterman@greenbuildermedia.com and I'll respond with information about Green Builder Media's upcoming resilient building initiatives.
This story has been republished with permission by GreenBuilderMedia.com